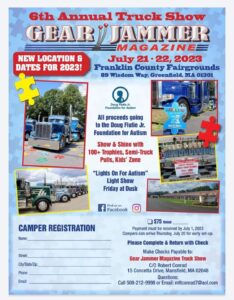 JOIN THE FACEBOOK PAGE FOR ALL SORTS OF UPDATES!
https://facebook.com/events/s/6th-annual-gear-jammer-magazin/847745276503240/
The 6th Annual GEAR JAMMER Magazine Truck Show for the Doug Flutie Jr Foundation for children with Autism will take place on July 21st and 22nd 2023 @ The Franklin County Fairgrounds in Greenfield MA. 2022's show saw over $82,000 raised for the foundation and went directly to help families in need. This year's show will feature a show and shine with over 100 trophies, vendor midway, live concerts, and truck pulls all throughout the weekend!
FRIDAY EVENTS
TRUCK REGISTRATION @ 8-5 PM
SPECTATOR GATES OPEN @ NOON
TEXAS HILL CONCERT @ TBD
"LIGHTS ON FOR AUTISM" LIGHT SHOW @ DUSK
SATURDAY EVENTS
SPECTATOR GATES OPEN @ 8AM
TRUCK REGISTRATION @ 8AM-12PM
JUDGING STARTS @ 12PM
GREG EVIGAN AUTOGRAPH SIGNING AND MEET & GREET @ TBD
RAFFLE @ APPROXIMATELY 2:30 PM
TROPHY PRESENTATION @ APPROXIMATELY
4 PM
TRUCK PULLS @ 6PM
PRICING INFO
Truck Registration
$25 per truck (Combo or Bobtail)
Vendor Registration
$100 for the weekend (10×10 space unless otherwise noted)
Camper Registration
$75 for the weekend **NOTE DOES NOT INCLUDE HOOKUPS**
SPONSORSHIP LEVELS
BRONZE – $250
1 FREE TRUCK ENTRY
COMPANY LOGO ON BANNERS
COMPANY NAME ON SHOW T SHIRTS
FREE ADMISSION FOR DRIVER AND PASSENGER
5 FREE RAFFLE TICKETS
SILVER – $500
3 FREE TRUCK ENTRY
COMPANY LOGO ON BANNERS
COMPANY NAME ON SHOW T SHIRTS
1 FREE SHOW T SHIRT
FREE ADMISSION FOR DRIVER AND PASSENGER
10 FREE RAFFLE TICKETS
GOLD – $1,000
UNLIMITED FREE TRUCK ENTRY
COMPANY LOGO ON BANNERS
COMPANY NAME ON SHOW T SHIRTS
2 FREE SHOW T SHIRTS
PERSONALIZED COMPANY SHOW BANNER
GLASS SPONSOR AWARD
FREE ADMISSION FOR DRIVER AND PASSENGER
15 FREE RAFFLE TICKETS
***ANY OF THESE CAN BE PREPAID FOR BY SENDING A CHECK TO THE BELOW ADDRESS
*****ALL CHECKS MUST BE MADE PAYABLE TO GEAR JAMMER MAGAZINE TRUCK SHOW
ROBERT CONRAD
15 CONCETTA DR
MANSFIELD MA
02048